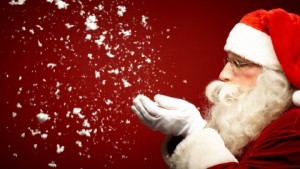 Wow — November already!It's time to begin the holiday festivities!  It's the busiest time of the year for everyone's favorite man in the red suit. We're talking about that jolly old soul, Santa Claus. During the holiday season, he has quite the busy schedule, everyone wants to experience his wonderful Christmas spirit. So why not roll out the red carpet and treat Santa like royalty this year at your corporate holiday party. If you are interested in having Santa attend your holiday party this year, there are a few things that you can add on to make for an unforgettable holdiay event.
Here are some helpful product rentals to ensure that this year's event is even more merry: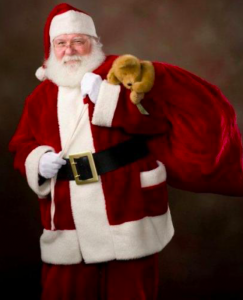 Santa Costume Rental, our Santa costume is authentic as it gets! No Christmas party is complete without a visit from the big guy himself!  Santa ia always a highlight of any holiday party or event! Let the kiddies at your party look forward to visit Santa. AMJ offers the perfect suit rental for your celebration.
Giant Light Switch, this is a great item to have to illuminate the space around where Santa will be! Consider stringing lights around where he will be seated and add some festive decor and of course a tree. Once the switch is flipped, the entire area will come to life. Everyone will feel the anticipation of Santa's arrival!​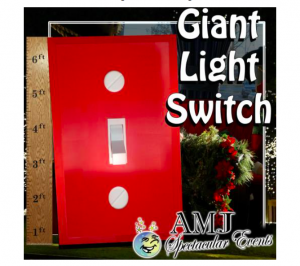 Santa's Mail Box, give kids the opportunity to write letters to Santa while they are waiting to tell him what's on their wish list. Our mail box is perfect for holiday parties. The kids will look forward to mailing their letter to the big guy!​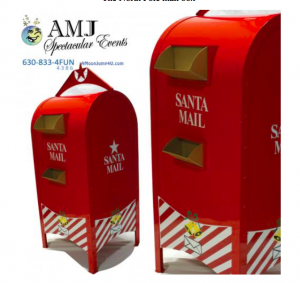 Santa Throne, Give Santa the royal treatment, and have him sit upon a throne. Dazzle your guests and fill your little ones with wonder with Santa's King Throne! Telling Santa about their holiday wishes will be even more magical with this royal-looking, red velvet, hand carved throne. Our Santa's King Throne is the perfect addition to your next holiday gathering.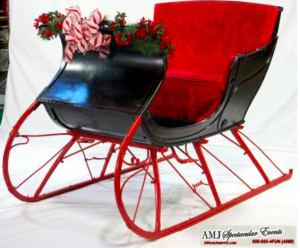 Santa Sleigh, Make your visit from Santa even more magical with this realistic and classic looking sleigh! Whether you are using it as a photo prop, a holiday party decoration, or for the jolly man himself, our Santa's Cozy Sleigh is the perfect addition to your next holiday gathering.
Give us a call at 630-833-4386 or visit our website! to rent these and other holiday products!
Our professional reservation staff is ready to assist you with all your party planning rental needs