Celebrating While Social Distancing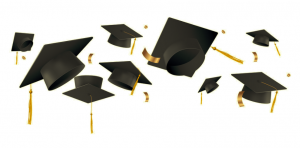 Commencement is a milestone event that many look forward to their whole life. It is the sign of a new chapter and the culmination of years of classes, tests, projects, sporting events and being with friends. It's an emotional time for anyone going through this rite of passage, but for the grads of 2020, it comes with a heightened sense of emotion and feelings of disappointment. Graduation during the COVID-19 crisis will look different than normal, but here are some ways to ensure your grad feels celebrated during this time.
Video Chat Parties
Though it might feel bittersweet to celebrate over a computer camera, you're still letting your student know you're proud of their accomplishments. Regardless of the medium, it's always nice to see your loved ones' faces and this is an easy way to include everyone as well as a fun excuse to get a little dressed up during quarantine. Your student is sure to be excited for the chance to wear their cap and gown for you even if they never leave the house.
Take the opportunity to mix it up a little. Set a theme and decorate your video chat background! Everyone can wear costumes, pajamas, formal attire or whatever your student might want. Or set up a surprise theme for your grad — maybe something that commemorates a special childhood memory. Keep the surprises coming by inviting guests they don't expect to see.
Your graduate will appreciate being the center of everyone's love and attention, and sharing tears, smiles and laughter.
Deck the Halls
You can still have a graduation party, but this year it will just be more intimate. Decorate your front door or yard with your school colors – add some streamers and giant letters and you've got a great start! On the inside of the house hang balloons, more streamers and some of your favorite photos to add to the festive décor. Look into yard signs for the front lawn to surprise the grad! On the night of your "graduation" enjoy cake and ice cream with everyone in your home.
Play Fun Backyard Games
Create a fun atmosphere with games to play such as bags, badminton, Giant Jenga get creative the most important thing is to have fun as a family! Crank up the music, start the grill and make the most of being home and reflecting on the next stage in your graduates life!