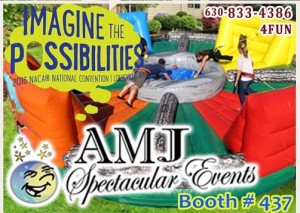 The team at AMJ Spectacular Events will be heading to this year's NACA 2016 in Louisville, KY on February 20th – 24th.  More than 85 performers are slated to take the stage during the 2016 National Convention! You'll see the best music, poetry, comedy, speakers and magicians that the college market has to offer, all under one roof!
We are so excited to bring the best products for College Programming to this year's conference.  We will be showcasing some of our new product as well as discussing the how to put together a spectacular event on a budget. Here are some tips that may save you money in the long run!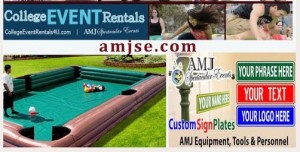 Make sure your party has a theme!  A theme is ALWAYS fun, no matter how lame you might think it is. Some ideas include retro or throw back parties, Hawaiian or beach themes.  Any theme will work as long as you have a plan on how to incorporate it into your event.  AMJ has Jumbo Inflatable Games that are the perfect add on to almost any theme including games like Giant Twister, Giant Jenga, Hungry Hungry Hippos and more!  
Know your budget! You will want to invest on the products and services that will really make your event fun!  Try incorporating interactive inflatables like our Meltdown or Black oPs Obstacle Course always a hit at campus events. Another fun item is our Custom Street Signs where students can make custom plates with the name of the College or event printed right there.
Advertise! This is usually done through colourful and well-inspired flyers, Facebook group, and/or word of mouth. 
AMJ Spectacular events has been helping colleges plan campus events for decades you can even say we're experts at it.  So stop by Booth#437 and let us help you plan a great campus event on a budget that will be fun and memorable. Visit us at http://collegeeventrentals4u.com for more information.