Fall is finally here and AMJ is celebrating the season with our fall treats. Our Fall Treat Rentals are perfect for Fall Festivals, Parents Weekend, School and Church events that need a delicious seasonal treat!
Check out our all new S'mores Bar! Our smores bar is a great dessert presentation that is popular with people of all ages. Interactive, beautifully presented and so much fun! Guests will return again and again and talk about your Smores Bar long after your reception ends. Try one and you'll want Smore!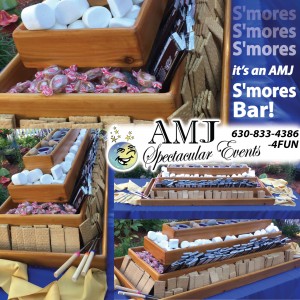 Just in time for cooler nights, warm up with our hot choclate and apple cider bar. Sweeten up this years holiday office party or break room by treating your employees to a hot apple cider and hot chocolate bar, br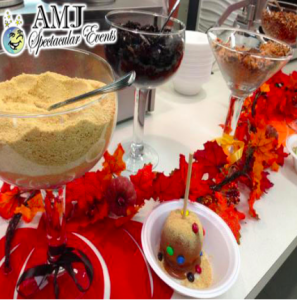 ought right to your office by AMJ Spectacular Events! We know it is a busy time of year, so we make this sweet-treat no hassle by doing the work for you. From set up, to serving, to clean up, AMJ Spectacular Events will take care of every detail!
Nothing says fall quite like delicious caramel apples. Make your own Caramel Apples with our Caramel Apple Station, complete with toppings and an AMJ attendant. If you are looking for a splendid treat to offer your guests or hard working employees, then this Caramel Apple Bar is an amazing choice.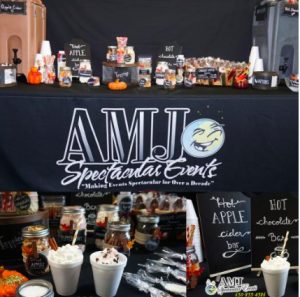 Finally no Fall Event is complete without the ultimate treat, mini donuts!  Can you smell that tempti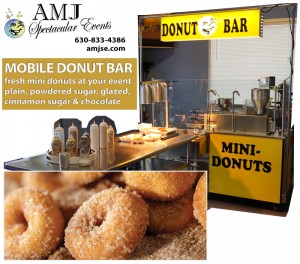 ng aroma of fresh baked treats? Wow your guests with these hot and delicious donuts right out of the oven, a definite crowd favourite! Try them in cinnamon sugar, or icing sugar! Make super fast delicious donuts with our Mini Donut Bar. Make the donuts to order in less than a minute! They come out piping hot and ready to eat!   Just sprinkle them with a bit of cinnamon and sugar, or any other sweet topping you would like, and enjoy! Give us a call at 630-833-4386 or visit our website! to rent these and other fall products!
Our professional reservation staff is ready to assist you with all your party planning rental needs