Gem Stone Mining Activity


2 hrs. 75 bags w/ 2 attendants $875 plus delivery...



When you're planning an event, you want for it to be memorable.


While inflatable rides can generate lots of laughter (and burn off some excess energy!), wouldn't it be fun to bring in something that people will still be talking about next week? Then you might be interested in our Portable Gemstone Mining System!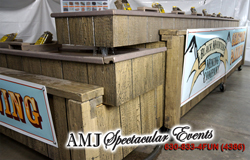 This is a great hands-on participation activity for kids, with a little education attached. But it's not just for kids - all ages will enjoy this activity!


We offer a 5 lb. bag of mineral rough n' soil mixture, which contains many varieties of mineral stones. Your guests purchase a bag of mineral enriched soil and pour it into a sifting tray. They dip it into the sluice and watch the soil wash away leaving just the gems!!

Our system is portable allowing us to bring the fun to you! (unlike many other panning systems out there today)




http://GemStoneMining4U.com
Size :2 pieces each 12' total 24' long
AMJ Spectacular Events is your complete party rental company, designed to fit any sized party at any budget. We take great pride in being family owned and operated while being supported by our dependable staff.