Inflatable Zip Line Rental


Tidal Wave Inflatable Zip Line...



Tidal Wave Zipline 70' - In-Line length!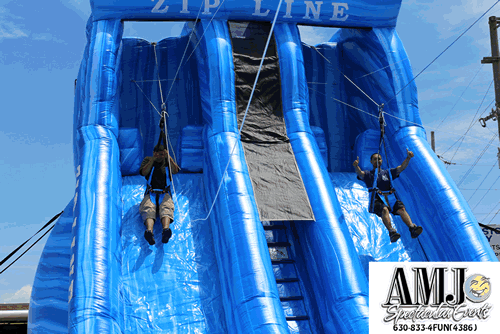 If you've wanted to add some real excitement to a birthday party or company event, but you were worried that a portable zipline might be too scary for some of your younger guests, we have a great solution! Our inflatable zip line has several advantages:
- The rider sits on a seat, which can accommodate sizes from 300 lbs down to very young children! 630-833-4386


- There's a slide, for those riders who freak out when they realize just how high up they've climbed when they get to the top!
- The ride is shorter, but FASTER than many other zip lines – it's a sprint from top to bottom, where the inflatable wall brings the rider to a comfortable stop.
- Our inflatable zip line can accommodate up to 200 riders per hour, making it perfect for larger events!

You may see other inflatable zip lines advertised in the Chicago area, but our Tidal Wave Inflatable Zip Line is unique – the bright blue wave patterns make you feel like you're flying over water. And ours is 28 feet tall, meaning that it will fit in more locations than the 35-foot structure offered by other companies in the area. In case you're wondering, their extra height comes from a decorative element that sticks out of the top.

If you decide that you want a more traditional zip line, we have that too – a huge, 3-story tall, 220-foot long dual zipline that makes a BIG impression wherever it goes!
THIS UNIT IS 70'X28'X28' AND WEIGHS OVER 1500 LBS.

Click here to check out our AMJ College Event Rentals 4u


Size :70x28x36
AMJ Spectacular Events is your complete party rental company, designed to fit any sized party at any budget. We take great pride in being family owned and operated while being supported by our dependable staff.