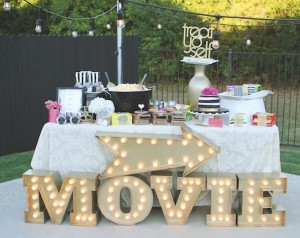 These warm summer nights are begging us to get out of our homes. So, while the nights are still balmy, why not throw a movie night with the stars? No, I'm not saying you should invite Leo DiCaprio. What I mean is, move the party outside and screen movies in your own backyard!
Movie nights are some of our favorite nights of the year. Host movie night for your next summertime event, or even an adults-only shindig (the kind where you can provide wine, cheese, and show a scary movie in your dark backyard). In any and all instances, be sure to have plenty of popcorn (see below).
Our backyard movie party rentals paired with your backyard, field or lot is sure to result in an extraordinary experience for all your attendees. We include everything to host the perfect outdoor movie night outside under the stars! Our Backyard Screen Is Great For: Birthday Parties, Graduation Parties, Halloween Events, Football Parties, Outdoor Barbecues, Backyard Cinemas, Pool Parties, Backyard Parties and Company Parties.
Our tips for the perfect movie night:
-Check the weather before you start planning anything
-Warn the neighbours about the noise (or better, invite them along)
-Beware of the cords from the laptop to the speaker and make sure that nobody can trip on them
– Wait for sunset to start the screening
-Why not have an intermission for drinks refuel?
-Get some mosquito repellent! (you'll thank me for this one)
-Make sure the movie is appropriate for your audience, especially if it involves kids.