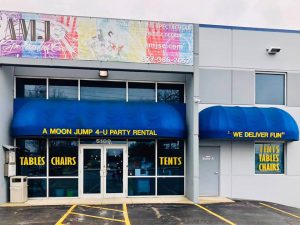 Many of us have the same burning questions: How do we get back to hosting live events in 2021? How do we ensure that events are safe? How will the event and meeting attendees feel safe enough to participate?
Events and Parties Post Pandemic
It's time to resume your events and parties in a post-pandemic climate. Where do you start? How do you even begin to plan? What format should you use? Most of our games and inflatables are good for single players to participate in, which encourages social distancing. Once the weather turns warmer we can help you with outdoor events which lend itself to more spacing.
Successful Events During COVID-19
AMJSE is experienced in executing COVID-19 procedures while ensuring your event is safe and fun.
How do we keep attendees safe at a live event?
1. Plan. Our event planners will work with you on selecting the right attractions, concessions and games for your event. We will go over the COVID-19 protocols, procedures, and event trends in the new world of COVID-19 events.
2.Cleanliness. You know the saying cleanliness is next to godliness. When you work with us you can rest assured that each game, inflatable, concession, and ride is cleaned and sanitized before and after each rental. We also offer sanitizing stations throughout the event. We are up to date and maintain COVID-19 safety protocols.
3. Set your own rules. You can decide how you want to keep your attendees safe. At minimum you must adhere to local and federal requirements but if you want to add enhanced measures, that's your decision. You may want attendees to have their temperature checked, ask for daily symptom checks, require masks, request that hand sanitizer be used prior to entering a room, and more. You can set your protocols for your attendees.
4. Communicate. Make sure that our staff and attendees are aware of the protocols. By setting these expectations in advance it will show your guests that you are doing everything possible to keep them safe. They will understand their role in the commitment to safety before attending.
The return of live events will give some of us a sense of normalcy and connection that we've been missing. While live events will look different, we will be able to meet in person if we all make the commitment to take the necessary steps for safety. Please reach out if we can help you plan your next safe event!