Before you know it, summer will be in full swing. For those of us who love to barbeque, this means that the most beloved holiday of all is here: the 4th of July. This Independence Day, why not celebrate in style with the perfect July 4th party?
If you're looking to have a killer 4th of July bash, read on to discover some handy party planning tips from AMJ's  Event Planner, Lindsey Rhea.
Load Up on Party Props
Kick Your Theme Up a Notch
"Integrating a theme is my favorite part of planning a party, and it's so easy to do with a party like this one. You don't have to come u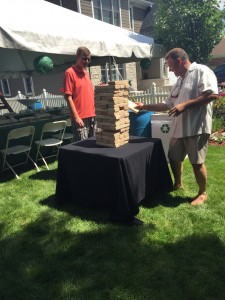 p with a theme for a 4th of July party; it's already there in the holiday itself.", says Lindsey.  Even if you don't love planning parties and want to keep it simple, showing your patriotism with a few bursts of red, white and blue can pull your party together visually and turn a little shindig in the backyard to a fabulous party.
A few ideas:
Serve festive foods like red, white and blue snow cones.
Play patriotic music in the background
Decorate the tables with Mason jars filled with red and white carnations and a small American flag, decorated with a blue ribbon
Patriotic Bites
What's a 4th of July party without a barbeque? AMJ can help you throw the perfect BBQ with our grill rentals, in case you need extra!  The easiest way to feed a lot of guests quickly and efficiently is buffet style. And with the addition of table & chairs rentals and tent rentals you can ensure to create the perfect outdoor space. As a tip, try to get all of your rentals, including inflatables, from the same company, as it will be the easiest to coordinate and the most cost effective.
Entertaiment
Keep the kids occupied with festive inflatables including AMJ's red, white & blue single lane slide or bounce house. If the weather is going to be extra warm then adding a water slide is a must like our 18′ modular slide with pool.  Adults love our Giant backyard games including our Giant Jenga, Giant Connect Four and Bag Toss.  With an inventory of over 1,000 items AMJ can help plan the perfect event to fit all your needs.
Contact Lindsey today and get started with your summer party planning!