There have been several news stories recently about injuries involving bounce houses – some even refer to it as a "public health emergency". The statistics show a significant increase in just the past few years – so what could possibly be the cause?
You may have noticed that you can now purchase bounce houses, slides, obstacles, and other interactive inflatables from your local Toys R Us, Walmart, Sam's Club, or Costco. These non-commercial units have really become available in just the past 3 years, but they are NOT made to withstand commercial use or high-volume events.
There are numerous critical differences. Commercial units come with:
a full 1-horsepower blower
18 oz Fire Retardant Vinyl
triple stitch and reinforced corners
reinforced netting
safety stairs
back flow value for slow deflation in case of power failure
netting over entrance door
18″ stakes (4 of them) to anchor the unit
These moon bounces are designed for commercial use, which means 6-8 children at a time. Compare that with the units available at discount stores:
¼ horsepower blower
nylon material
single stitching
4″ stakes to secure the unit
designed for home use, 2-3 children at a time
Parents might be tempted to use bouncy houses as baby sitters. It's very important to have an adult supervisor monitor the inflatable at all times, since ANY interactive inflatable product can be dangerous if unsupervised, and can easily result in injury.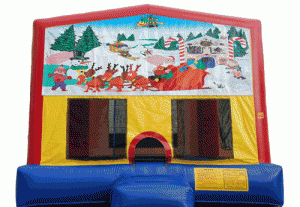 At A Moon Jump 4U and AMJ Spectacular Events, our FIRST priority is always safety. We ALWAYS anchor the bounce house to the ground. We ONLY rent commercial-grade inflatables. When we deliver any of our products, we DISCUSS with the renter exactly how to use the product.. And finally, we provide protocols for any emergencies that may arise.
Here are the safety requirements which we review with each renter – we even have the renter sign a document acknowledging an understanding of the rules.
Never use in high winds and during a thunderstorm
When plugging in blower, make sure that the electricity is grounded
Adult supervisor must be present the entire time
Never overload the product w/children: 6-8 children maximum
Children of like sizes need to be in the product at the same time.
No flipping
No rough playing
No shoes, glasses, food/gum or drink
If you're looking for a SAFE experience for your child and his/her friends, check out our huge selection of quality bounce house rentals. Then call us at 630-833-4386, or click on the "Contact" button to email us any time of the day or night! We look forward to making your upcoming event memorable and SPECTACULAR!