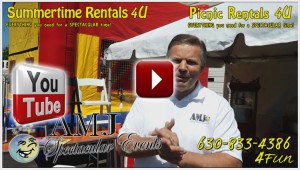 https://www.youtube.com/watch?v=BGkfsH89aYo&feature=youtu.be
With summer here there are so many events to start planning from kids birthday parties, to family reunions, block parties, summer fun fairs, picnics and more!  There is a lot to consider when planning a summertime event, from the venue to the entertainment, and everything in between!  AMJ Spectacular Events has been helping to plan all these types of events for over 20 years.  In all that time, we have become experts when it comes to finding the right type of entertainment and product rentals to help make your event the very best and most fun.  Confused on where to start?  Then let us help you with our top 10 list of the summertime "must-haves" list!
#10 Tents, Tables & Chairs If you are planning an outdoor event and are unsure of the type or size of tent your event requires, then let the event planners at AMJ help you figure out the tent you need.  They can also help with other rental items like tables & chairs!
#9 Double Slide Our GIANT slide is one of a kind. This is a double-lane slide that provides a bunch of fun for everyone. This inflatable slide keeps both the young and old happily sliding for hours. Be prepared for major competition with this slide.
#8  Frozen Inflatable Moon Jump  Have the party of your life with the all new Disney "Frozen"-themed moon jump (see picture above). Every little girl will be having a Frozen party this summer!
#7  Outdoor Movie Screen Outdoor movie screens are just about guaranteed to add fun to any event. Whether you're planning a block party, church event in the park, or something right in your own backyard, a 17′x25′ ft inflatable screen (white screen 11′x19.5′) makes a real statement! You'll also need a portable movie projector, and some popcorn – naturally, we can help with all of that!
#6  Concessions What is better on a hot day than a cold and fun frozen drink. Kids of all ages love slushies and our easy-to-use machine adds to the fun on a warm day. Enjoy this great taste and only the highest quality from every frozen beverage!
#5 Carnival Games  Add something fun for the kids at your event by including some of our more popular carnival rental games, like the classic game of Duck Pond.  If your event has a Hawaiian theme, then you will want the Hula Girl Hoop Toss.
#4 Tidal Wave Zipline  Our most popular attraction for 3 years running!  If your looking for the wow factor at your event, then it's the Zipline you want!  With over 70″ of heart pounding action no one will ever forget this exciting ride!
#3 Inflatable Obstacle Course  This is a great obstacle for kids 10 and younger. Grab a buddy and try our 28ft obstacle course. Race your friends through this challenging course. See who is the first to get to the other side and win!
#2 Big Splash Game Fun for Everyone. The Big Splash creates a fun event on a hot day! Anyone who can sit under the 2 gallon bucket can participate. Be prepared to get wet and have fun!
#1 Water Slides No summertime event or party is complete without a water slide inflatable to cool off  in.  We have many slides to chose from including our oh-so-fun Corkscrew Inflatable or our Fire & Ice Inflatable slide and pool!
These items will be booked quickly this summer, so be sure to call us right away to check on availability (630-833-4386), or email us at sales@amjse.com.