In an effort to be all-inclusive, many schools have moved from the tradition of celebrating Halloween to hosting a fall festival. More than just noting a holiday, these festivals celebrate a season — and take advantage of the educational opportunities it brings. Our expert event planners at AMJ Spectacular Events share there tips, tricks and how to throw a great fall fest for your church, school or corporate event!
Here are some ideas for fall festival games and activities you can use:
"There's no such thing as an event that's too organized", says Deanna an event planner with AMJSE.  Here are a few tips to consider before planning your school fall festival.
Tips for a Successful Fall Festival
1. Don't forget the cash box
If you're collecting cash for entry fees, ride or activity tickets, or concessions, make sure someone is in charge of stocking a cash box with a variety of small bills so you can make change when every single person wants to pay for a $3 snack with a $20 bill. Who has signature authority on your PTA bank account? The people who can get the cash box might be limited to the PTA president, secretary, and financial secretary. Make sure one of them is available and knows you need the money. And pay attention to timing – you don't want to start setting up for a Friday night event only to realize the bank closed an hour ago.
2. Take care of your volunteers
Set up an easy-to-find volunteer check-in station. Make sure someone is there throughout the event to provide guidance and quick training as volunteers arrive. Your volunteers are giving their time and energy – don't make them guess what they're expected to do or where they need to go.
3. Include some floaters in your volunteers
You can ask for people willing to serve as floaters, or see if the PTA board members will take on this role. Either way, you'll be prepared if there's a sudden rush of people at the cake walk or if the ticket taker needs to leave early.
4. Get older kids involved
Middle school and high school students are great sources for volunteers, and the younger children love seeing the "big kids" be part of their event. Make sure older students know you'll sign off on their service hours.
5. Have a backup plan for bad weather
When you decided to hold a fall festival, it was easy to envision families enjoying a crisp, clear fall day. Go ahead and plan for a great day outdoors spread across the school grounds – but have a backup plan just in case mother nature doesn't cooperate. Can you move events indoors? Choose a rain date? If all goes well, you won't need the backup – but you'll feel better knowing you're prepared.
6. Make it fun for all ages
Plan a variety of events appropriate for different age groups. Elementary school students may range in age from 5 to 13, plus younger and older siblings. Don't try to make everything work for everyone. It's okay if younger kids line up for face painting, while their older siblings try their prowess at the beanbag toss.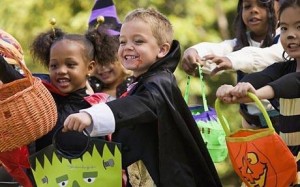 7. Include a clean-up crew
When you ask for volunteers, make sure to include a clean-up crew as well as volunteers during the event. You don't want to wave goodbye to happy, tired participants at the end of a successful festival only to realize you're all alone and clean-up hasn't even started.
8. Don't forget the cash box
At the end of the event, make sure you know who's in charge of counting the money (there should be two people to do this) and turning it over to the treasurer or someone else with authority to make a bank deposit. Make sure the initial stock of cash doesn't get counted as part of the proceeds from the event.
Throw a School-wide Fall Festival
A fall festival or harvest party can be just as much fun as a school-wide Halloween carnival. Here are some ideas for pulling one off.
Give your elementary school fall festival an educational theme, such as making it all about books and reading. Allow the students to wear costumes, but require them to dress up as their favorite storybook characters.
A maze of confusion: Who doesn't love a challenge and these festive mazes are sure to be a hit! Rent our Corn Maze ,  Haunted Ogre Maze or Haunted House Maze. Kids and adults like will love the challenge to get to the other side.
Pumpkin Party: Decorate with lots of orange and pumpkin decorations for this party. Have all of your guests bring their own pumpkin and provide them with paint, markers, glitter, paper, and everything they need to decorate their pumpkin.  Our Pumpkin Moon Jump is great to keep the kids entertained! If the kids are older, or their parents are invited too, try pumpkin carving! An easy party favor from this party (besides their pumpkin) is a photo keepsake.
If you love Halloween, don't be disappointed if your child's school doesn't celebrate it. You'll find that there are plenty of traditions surrounding the fall season that are just as much fun to enjoy. And as a bonus, most of them are educational, too.