Trackless Trains by AMJ Spectacular Events
http://trainrentals4u.com/index.html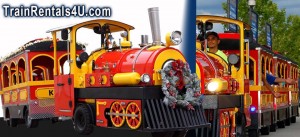 Trackless Trains are an incredibly memorable event for all ages.  Train connoisseurs come in all shapes and sizes, as do our Trackless Trains.  We have three different trains sure to meet your needs.   Here are a few: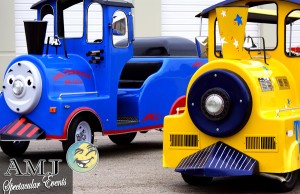 Kids will be thrilled to ride the Party Express Gas Train which comes with an engineer, three cars and a train station.   The engine and each car are illuminated with LED lights.  This versatile train can be driven on all surfaces and can hold up to sixteen passengers.  This Express Train is perfect for birthdays, school functions, park districts, community festivals, and more.  Those who are 16 and younger……."All Aboard!"
Looking for an electric train that can be used both indoors and outdoors?  Check out our AMJ Express Trackless Train with a 16 passenger capacity.  Here are a few of the features:
LED lights
MP3 Player
Public Address System
Realistic train sound
Capability to drive on all surfaces
This is the perfect train for an upcoming holiday event where you need to shuttle guests from one location to another, or perhaps just have a fun-filled ride with some hot cocoa and enjoy the scenery!
If you are looking for a larger train, check out our Miracle Express Electric Train with a 30 passenger capacity!  This magnificent train features a handcrafted wood interior and exterior.  It not only sounds like a train, but your passengers will feel as if they are really riding the rails!  At AMJ we strive to meet your diverse needs, from private party, school function, park district, corporate event, you name it, we are here to make your next event SPECTACULAR!
AMJ Spectacular Events is prepared to assist you in creating a memorable holiday party this year.  These items will be booked quickly this holiday season, so be sure to call us right away to check on availability (630-833-4386).