---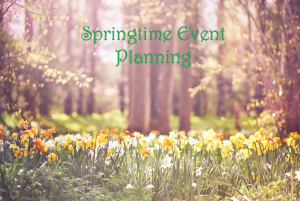 Spring is about more than just flowers. As events move outdoors, the season brings an abundance of ideas for colorful, cheerful decorations, appetizers, centerpieces, and more. From whimsical tea parties and Easter-egg hunts to jaw-dropping floral design and fresh cocktail recipes, spring-theme events will always be popular. Springtime events can be so fun including communion & graduation parties as well as end of the year and Memorial Day celebrations.  Whether you're planning a company outing, teambuilding activity, fund-raiser, or school event, there are plenty of ideas for spring events and corporate entertaining this spring.  Let's look at some helpful tips:
Start the planning process early. In fact, start earlier than you think you need to. This allows you to do your planning in a relaxed orderly fashion. It is never a problem to finish early and be able to sit back and relax. Starting early also allows you the ability to more easily address any problems that crop up during the process.
Talk to a professional planner or coordinator.  If you need a lot of support and help, you should hire a real professional that has some solid experience and can provide the direction and guidance you need. AMJ Spectacular Events is a complete party rental company, designed to fit any sized party at any budget. They are family owned and operated while being supported by a professional & dependable staff. Their Event Specialists have many years of experience planning events for backyard parties, corporate events, picnics, country clubs, tradeshows, churches, colleges, and holiday parties.
If you are going to hire a professional there are a lot of things to consider:

First and foremost, make sure you are comfortable with them;
What type of experience do they have;
Can you see some photos of events they have done;
How long have they been in business;
Can they provide testimonials from people they have worked for and with;
What are their fees;
Will they handle booking all of the service providers for the day or will they simply coordinate all of the moving parts for you.

Consider an Outdoor Event Spring is a perfect time to consider holding an event outside. Before summer starts to heat things up, the spring is a perfect time to enjoy temperate weather and get some fresh air. Events can be held anywhere from company grounds to a nearby park or on rented space. Determine the location that's best for you and the events that suit your party's theme. Ask about our tents, tables and chairs too!
Don't Skip the Entertainment A good party should be about more than just getting together and eating. Put some consideration into finding DJ service or entertainer. Other ways of livening up the mood include events like trivia/game show rental  or karaoke. Consider a range of entertainment options that can satisfy all your guests. Some popular choices include  Giant Game Rentals like Jenga and Battleship as well as  inflatables for all ages including a Wizards Castle or a Hungry Hippo for older kids.  AMJSE has 1literally 000,'s of inflatables, games, concessions, interactive products, trains, photo booths, and much more.  Their products are fun and add excitement to events, which in turn creates memories that last a lifetime for everyone in attendance!
Relationships with dependable and reliable vendors allow us to provide additional services to make your event truly spectacular. AMJSE would like to be your "one stop shop" to ease some of the stress of event planning. Give us a call or email today to begin your planning!