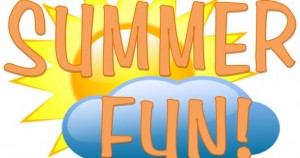 Summertime means a lot of things to a lot of different people, but for those of us in the party business, it means party time. Graduation parties, weddings, showers and family reunions. No matter the theme, no matter the type, we know that if you're planning a party, you want to save money and throw the biggest, most talked-about bash around. So we'd like to take the time to give you some ideas to help you pull off one spectacular summertime event!
It's summer! Get outside and play. Throw a themed "backyard bash" party at your place or include them at your picnic for tons of laughs and a great time:
Let There Be Bubbles – Who doesn't love bubbles right! Rent our bubble machine, for endless fun. A professional bubble machine will leave your little ones laughing for hours as they chase hundreds of bubbles. Adorable.
"Giant"  Games – Looking to add some ginormous fun at your summer party check out our Gaint Jenga, Connect Four, and our all new Battleship Games. Perfect for the backyard!
Lawn Games– Set up  lawn games for your guests to play. These can be anything from croquet, to horseshoes, to volleyball or even badminton. If you have a large number of guests attending, then consider having teams and doing a tournament!
Groovy Dance Contest – Put on some dance music like the "Macarena", the "Cupid Shuffle" or the "Cha-Cha Slide" and let your guests shake their stuff! Need something more check out our audio equipment rentals.
Dodge Ball & Kickball – Divide your guests up into two teams and play some exciting games of dodge ball or kickball. You can have a mini tournament if you have a large number of guests and give the winning team some small prizes. We even rent Bocce Ball!
Water Fun – We rent a huge selection of inflatable water slides, and dunk tanks to help your guests cool off this summer.  Need something simple try to make a lot of water balloons and play some water balloon games, such as water balloon tag, or have a water balloon tag. Tell guests to bring swimsuits or a change of clothes and have some extra towels ready, as you and your guests are going to get soaked with these games.
Frisbee Golf – Set up a golf course in your backyard or at a nearby park or field. Use various household items to make "hazards" at each "hole". Also set up a flag or stick at the end of your "hole" numbered 1 through 9. All you have to do is take turns throwing a Frisbee until you hit the numbered flag. Keep track of how many throws you make, and the person with the lowest score at the end wins!
Scavenger Hunt – Make a list of common household items or of outdoor things. Your list can include anything from a rock, to a spoon, a spool of thread or even a leaf from a certain tree. Divide guests into teams of three and send them out into the neighborhood to find the items on the list. The first team back with everything on the list wins! If you are including items where team members will need to ask neighbors, make sure that children have an adult on their team to help them out and keep them safe!
Summertime is wonderful for getting outdoors and having some fun in the sun. Your themed "backyard bash" party is sure to be a hit if you include some of these ideas. Need help planning soemthing more elaborate or for more ideas contact one of our event planners at: